The obvious way to calculate the performance of slots is by your winnings. After all, the aim of playing slots is to win a major jackpot or at least make some money by the end of your session.
The problem with this, though, is that the slots are highly unpredictable. You could lose money for 10 sessions in a row before you eventually book a major win.
This intense uncertainty also hurts more than it helps. Therefore, you may want to calculate your slot output in a different way: lower theoretical losses.
I'm going to clarify more about what this definition means. I'm also going to explore ways you can boost the results of your real money online slots.
Slot Machines Are Negative Expectation Games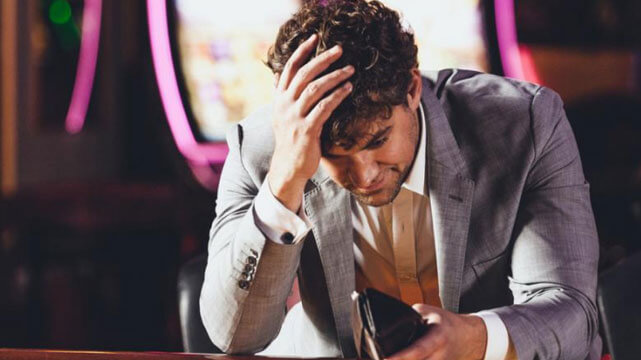 You can't beat yourself up over slots losses. The averages suggest that you're going to lose money in the short and long run.
Nevertheless, some players still have a tendency to get mad when they lose. They feel that luck is on their side and get angry when their fortunes turn.
Slots Also Play at a Really Fast Rate
Again, every slots bet is an unfavorable proposition. But this aspect is nothing different from other casino games or real money slots apps.
PLEASE NOTE:
One way that slot machines do differ from the pack, though, is their play rate. Slots encourage you to gamble at an extremely fast rate.
Each spin finishes really quickly when compared to table games like blackjack, craps, and roulette. You can play hundreds of rounds each hour as a result.
Here's an example on how the quick play rate can accelerate your losses:
You bet $1 per spin
You're on a machine with a 5% house edge (95% RTP)
You perform 500 spins per hour
500 x 1 x 0.05 = $25 in hourly losses
If you were allowed to bet just $1 on other casino games, then you wouldn't lose anywhere close to $25 an hour.
The reason why is because most games don't run nearly as fast as slot machines. So, you have to worry about the quick play rate just as much as the expected losses with slots.
Of course, you could always purposely slow down how fast you spin the reels.
This allows you to take advantage of the low minimum slots bets and also expose yourself less to the house edge.
Chances are, though, you don't want to purposely play slow. The only people who actually want to do this are drink-mongering comp hunters, who pretend like they're playing slots just to get free drinks.
Think About Lowering Losses, Not Winning Consistently
You can see that the odds are stacked against you in slots. But this doesn't necessarily mean that you have to quit playing and enjoying yourself.
Instead, you just need to revise your expectations.
Your goal should be to lower theoretical losses rather than expecting wins.
You could further refine this goal by stating that you want to minimize losses while chasing big payouts and lucrative features. Assuming you're lucky enough to win a large jackpot, you might win serious profits that more than cover your past losses.
Of course, jackpots don't come around every other day. You're unlikely to win a huge payout any time in the near future.
PLEASE NOTE:
If you keep playing long enough, though, you're eventually going to win big, whether it's through a bonus round or progressive jackpot.
The key is to avoid placing so much emphasis on short-term results. A better way to view the matter is by lowering expected losses while going after big payouts.
Tips for Reducing Theoretical Losses
I've mentioned multiple times how lowering your theoretical losses is important. But how exactly do you accomplish this goal? Here are several ways to minimize losses or even boost short-term winnings.
Play Slots With High RTP
Unfortunately, you can't find RTP for land-based slot machines. The developers that make these games give casinos an array of options for RTP.
Therefore, they can't offer you reliable payout percentages. You're left in the dark regarding your chances of winning in brick-and-mortar casinos.
Luckily, though, most online slots developers offer uniform RTP across all casinos for their slots.
You can simply navigate to a given game's info screen to check the payout percentage.
The average internet slot offers 96% RTP. Assuming you play slots with better payback than this, then you stand a stronger long-term chance of winning.
Concentrate on Medium and Low Volatility Games
As covered above, payout percentages are quite useful when determining your chances of beating slots. However, you can't solely rely on this information.
Slot machines are the most volatile games in casinos. They put you through lots of cold streaks before finally delivering a big win.
It's during these cold runs that your bankroll and mettle will be tested. But you can reduce the chances of dry spells happening by playing medium and low-volatility games.
These slots may not offer seven-figure jackpots or the most features. What they do, though, is provide more-consistent wins. You can use these consistent winnings to sustain your bankroll and stay in the game longer.
More and more developers are offering a volatility rating in the info section. That said, you might be able to find this information alongside the RTP.
Take Advantage of Slots Bonuses
Online casinos offer deposit bonuses that can give your bankroll a big boost. You simply need to place a deposit and use the correct bonus code (if required) to qualify.
PLEASE NOTE:
If you go for a 100% match offer, then you'll receive a bonus that matches your deposit amount. Afterward, you need to meet terms and conditions before withdrawing the money.
Playthrough (rollover) is one of the most important terms. It dictates how much you'll need to bet before cashing funds out.
Here's an example of how rollover works:
You qualify for a $150 bonus
Rollover is 40x
150 x 40 = $6,000 must be wagered
Ideally, you'll find an offer that features low playthrough. This will allow you to earn and cash out your bonus funds quicker.
Exercise Bankroll Management
Bankroll management isn't always the most popular practice in slots. Many players simply choose their favorite game, insert or deposit whatever money they can spare, and start playing.
PLEASE NOTE:
As with any other casino game, you can benefit from a detailed slots bankroll management plan. Being mindful of your bankroll helps you become a disciplined player.
Discipline may not improve your odds of winning. However, it does help keep you from gambling money that you can't afford to lose.
Here's a sample slots bankroll plan in case you need help getting started:
You go through your finances and decide on a $500 bankroll
You normally bet $1 per spin
You play online slots (4% house edge on average)
500 x 1 x 0.04 = $20 in hourly losses
500 / 20 = 25
Your bankroll will theoretically last for 25 hours
Nothing guarantees that your bankroll will last anywhere close to 25 hours, especially with the volatility of slots. But these types of plans provide a ballpark figure on what to expect.
Conclusion
Slot machines are the least consistent games in the casino. One day, they'll award you a large payout that makes you a big winner. The next day, they'll drain your bankroll in less than 20 minutes.
Therefore, you should never expect winnings going into any given session. A better plan is to simply lower your losses while hoping for a big payout at some point.
You can minimize short-term losses by playing high-paying slots, choosing games with medium or lower volatility, and cashing in on bonuses. With some luck, you'll stay in the game long enough to eventually win big through features and/or jackpots.